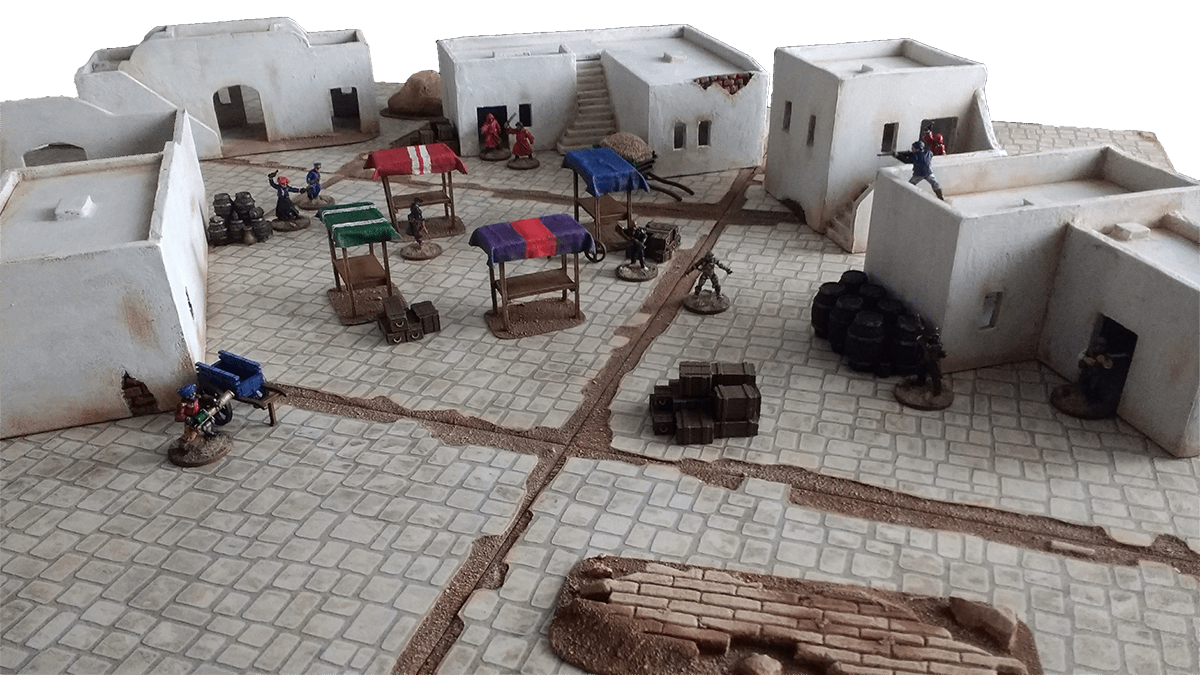 As I've said before, I'm a huge fan of "In Her Majesty's Name" wargame rules from The Ministry of Gentlemanly Warfare and in a previous post, I mentioned making a series of Egyptian inspired terrain for the game.  In this post, I want to talk a little about how the terrain was created and to share more photos.
The first pieces I created were the buildings. After doing some research, I then sketched some design ideas for several styles of building. Once satisfied with this, I moved onto their construction. All of the buildings were made using 5mm foamboard, which was cut to shape and glued together using PVA glue.
With the buildings constructed, to add texture, I then coated them in ready mixed wall filler. Once the filler was dry, I used some sandpaper to reduce any areas that had too much texture on them, and then it was onto painting them.
The buildings were painted in a coat of light brown, then heavily dry brushed in a light cream to create an off-white colour scheme. I then dry brushed areas of the buildings in a different shade of brown, to add some weathering.
The market stalls were created using modelling sticks, some small sheets of balsa wood for the frames and then some fabric coated in PVA glue for the canopy (generously donated by my wife).
With the town set-up completed, I decided to expand the terrain by adding in some ancient Egyptian ruins. The first of these items were some household ornaments I was lucky to find in a local discount store. These I repainted using two shades of brown, a base coat and a dry brush coat. As you can see, I cut one of the spires into several pieces, to create a ruin.
The next items were the walls and the platform. These were all made from blue insulation foam which was cut to shape. I then added the detailing of the stonework by scoring the foam with a pen. These pieces were given some texture by painting on a mixture of equal part PVA glue, ready mixed wall filler and water.
Next up was the painting of the ruins- to keep the consistency similar, I used the same technique and colour used in the ornaments.
Here's a gallery of some of the terrain in use.
Hope you enjoyed this quick summary of the construction of my Egyptian themed wargaming terrain. If you have any questions, please feel free to contact me, I am more than happy to offer help and advice to anyone wanting to create their own awesome table tops or if this isn't for you, I am available for commission work.
Look forward to seeing you all again.